Have you heard of the racket sport padel? The trend in the field of sports. Now you may be wondering why padel is so popular. The answer is simple, padel is accessible for all ages and levels and is a lot easier to learn than tennis. Does this sport appeal to you and do you want to know more about it? Then read on!
What is Padel?
Padel is a mix of tennis and squash and originates from Mexico. The sport is particularly popular in South America and Spain, but the sport is also on the rise in other countries. It is mainly known as a fun and social friend sport, because padel is often played with four people on a small field, so you have a lot of contact with each other. The ball often flies in all directions, which makes for hilarious moments.
How do you play padel?
You play the sport with two or four on a field of 20 x 10 meters surrounded by four walls. The game works as follows, just like in tennis, the ball may hit the surface once before the ball has to be played to the other side, but the biggest difference is that in padel the ball may be played through the walls after bouncing, this ensures for an extra dimension. The match is won by the first team to have two sets. As in tennis, one game consists of four consecutive points, if the team wins six games then it has one set. A padel match does not have a fixed duration, this depends entirely on the point count, but generally the matches last on average one hour.
Racket and balls
Unlike tennis and squash, padel is played with a racket without strings. The padel racket is made entirely of plastics, such as carbon or fiber. Also typical are the many holes in the racket that ensure that you have less air resistance. The ball that is played with is very similar to a tennis ball, only a bit heavier and harder. It is especially important that the ball must be able to bounce well.
The history of padel
The inventor of padel is the Mexican businessman Enrique Corcuera. Enrique wanted to have a tennis court built in his yard, but due to a lack of space, he came up with an alternative court surrounded by four walls. Because the court was smaller, he chose to play with smaller wooden rackets instead of tennis rackets. This is how the sport actually originated by accident. In the beginning, the sport was only played by the Mexican elite, but after Enrique introduced the sport to his Spanish friend Alfonso de Hohenlohe, padel also ended up in Spain and spread further around the world.
Major events
Besides the fact that Padel is known as a fun sport of friends, it is also an official sport with many major events and tournaments all over the world. That is why a summary of the four largest tournaments follows.
1) The world championship
At the end of 2021, the 15th edition of the Padel World Championship will be organized in Doha – Qatar. A total of 29 countries are participating, including Germany, Spain, Argentina, Italy and the Netherlands. It promises to be a great spectacle, so don't miss it!
2) The European Cup
At the end of May 2021, the European Cup event will blow out its 4th candle in Malaga – Spain. 24 clubs are expected from all over Europe. Each club is represented by one women's team and one men's team.
3) The World Padel Tour (WPT)
The World Padel Tour is an international circuit that organizes professional padel tournaments for both men and women. The World Padel Tour includes all professional padel events around the world, with the exception of the World Championship and the European Cup.
4) The Tri-Nations Cup
The Tri-Nations Cup is played in Latin America and is very popular among the population. It is not clear whether a tournament will be organized this year in connection with COVID-19.
15 campsites in Europe with a Padel court
Have you ever played padel or would you like to learn how to play it? JetCamp has listed 15 campsites especially for you where you can play padel during your holiday this summer.
1. Tamarit Beach resort
With no less than five private padel courts, Camping Tamarit Beach Resort at the top of the top 25. The resort is located directly on the sea and 10 minutes from the city of Tarragona . It is also advantageous that you do not have to leave your caravan or rental accommodation, but simply reserve a padel court online. Pay attention! The court must be booked 24 hours in advance.
2. Camping L'Air Marin
In the French town of Vias Plage you will find the family campsite Camping L'Air Marin. This campsite has a wide range of sports facilities, such as two padel courts that you can use for a fee (in the months of July & August). A court can be reserved at the reception and you can borrow padel rackets.
3. Camping Club Farret
Fancy a game of padel with friends or family? At the French Camping Club Farret – Yelloh!you can use the padel tennis court for a fee. Padel rackets can be borrowed and you can reserve a court at the information point next to the reception. Attention sports enthusiasts! In addition to padel, Camping Club Farret offers an enormous amount of sports facilities, from dance lessons to volleyball and from fitness to petanque. This way you stay fit, even during your holiday.
4. Camping Valldaro
Maybe you will discover that padel is your new passion during your next holiday at Camping Valldaro in Platja d'Aro . Right next to the main entrance of Camping Valldaro you will find a padel court that is made available to both guests of the campsite and the other public. You can rent the court during the day for € 20 per hour and in the evening for € 24 per hour. You can borrow padel rackets at the reception.
5. Camping Riu
Camping Riu is located in the tourist destination of Sant Pere Pescador, which is mainly visited by sports and nature lovers. This campsite also has its own padel court. Are you also coming to hit a ball at Camping Riu? For rackets and reservations you can go to the reception.
6. Eurocamping
During your stay at Eurocamping on the Costa Brava, you can rent a padel court at the reception from 8 a.m. to 9 p.m. The track can be rented for € 16 per hour, including materials for up to four people. By the way, you can practice even more fun sports because in addition to a padel court, the campsite also has a football field, basketball field and handball field.
7. Camping Zeebad – Roompot
Despite the fact that Camping Zeebad – Roompot in Zeeland does not have its own padel court, this campsite still belongs in the list. Now you may be wondering why? Padel can be played within walking distance of the campsite at the Boskreek tennis club. For € 20 per hour you can already reserve a court including balls and rackets.
8. Camping La Ballena Alegre
During your holiday in Spain, the extremely popular sport padel should not be missed. At Camping La Ballena Alegreyou can play padel next summer on two brand new padel fields. If you do not have your own padel rackets, you can rent them at the information point on the campsite.
9. Camping Village Rocchette
In 2019, Camping Village Rocchette a beautiful padel field installed, so that you can now also enjoy racket sports during your holiday in Toscana. Padel is a social and fun game that is suitable for the whole family, regardless of age or level and therefore the ideal activity for camping. The necessary materials can be rented or even bought at the campsite.
10. Camping Estrella de Mar
Camping Estrella de Mar has a large sports zone with a football and basketball court. In addition, two tennis clubs with more than 20 padel courts are within walking distance of the campsite. That is also the reason why Camping Estrella de Mar deserves a place in the top 25.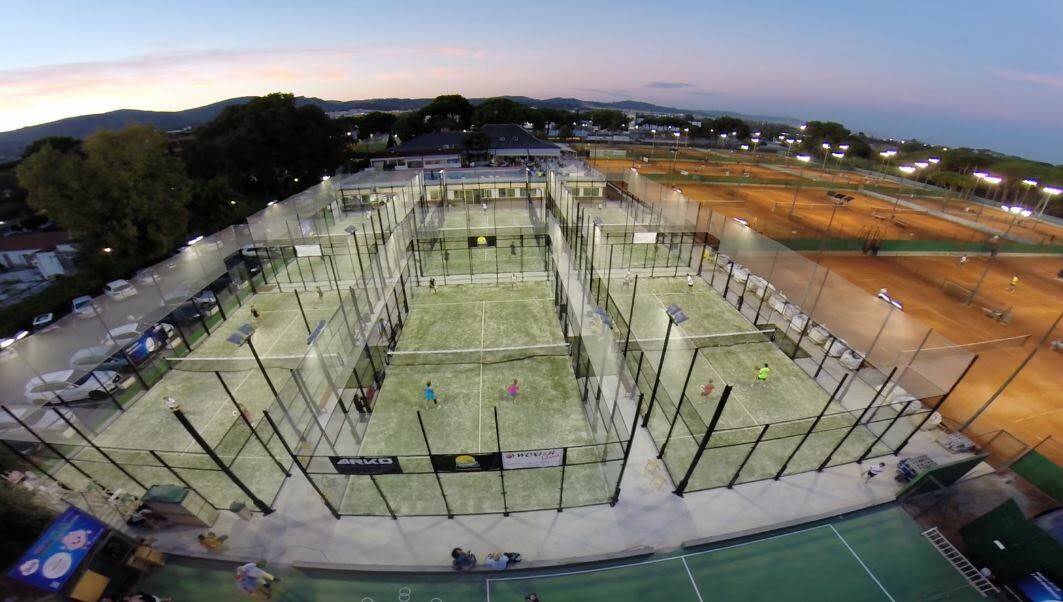 11. Camping La Noguera
Do you want to learn padel or are you already an experienced athlete? The padel court at Camping La Noguera is accessible to everyone. Campers can reserve the padel court at the reception for € 10 per hour and non-campers for € 15 per hour. You can also go to the reception for equipment rental.
12. Belvedere Village
At only ten minutes walking distance from the holiday park Glamping Alcantara , every padel enthusiast can enjoy one of the courts of the padel club ASD Garda padel. The child-friendly holiday park Belvedere Village is located near Lake Garda in a quiet area. Tip! Make sure to book a padel court in time, because ASD Garda padel club is very popular in the area.
13. Set Camping & Bungalow Resort
Will you play padel on one of the three courses of Camping Stel this summer? Hopefully, because the resort organizes annual tournaments for all ages. Team up with your friends or family and participate in the Couple tournament.
14. Vendrell Platja Camping & Bungalows
Two luxury padel courts, a football field, jeu de boule court, a basketball court and ping pong tables, this is what the sports zone of Camping Vendrell Playa looks like. During the high season, the holiday park organizes many sports tournaments. Staying fit during a fun tournament that sounds like the ideal activity during your holiday on the Costa Dorada.
15. Camping Interpals
At Camping Interpalsyou can play padel on a unique course, one wall is made of glass and the other of concrete. This makes the game even more dynamic. Various competitions are organized by the animation team in July and August. The course is very popular among visitors to the campsite, so make sure to book a course at the reception in time. The price includes balls and rackets.scription for your Article from here: https://www.jetcamp.com/en/blog/top-15-campsites-with-padel-court-in-europe/